{"id":8091798077730,"title":"FLEXA mattress, 200X90 cotton cover","handle":"flexa-mattress-200x90-cotton-cover-white","description":"\u003cp\u003eYour child's day is filled with new experiences, and at night your child needs peace and comfort to process them. Quality sleep boosts your child's ability to focus, remember and be creative, just as sleep is crucial to the successful development of your child's reading and mental maths skills.\n\nThe FLEXA Mattress has 3 cm of latex with cool gel on one side, 5 cm of cold foam in the middle and 4 cm of latex on the other side. Latex with air ducts provides good ventilation and transports moisture away from the body. \nThe mattress is reversible to secure the right support for the growing child.\nStart by using the side with the 3 cm of latex. When the child reaches 40 kg, turn the mattress. Suitable for children with sensitive skin or allergies. \nWater-repellent, non-woven inner cover\nThe mattress has a 5-year guarantee and is STANDARD 100 by OEKO-TEX®.\n\nThe cotton cover is 100% natural material, breathable and with a soft surface, which helps the child's body to breathe and regulate its temperature. The mattress cover is STANDARD 100 by OEKO-TEX®. Our mattress covers have a 2-year warranty.\u003c\/p\u003e","published_at":"2023-01-26T15:17:05+01:00","created_at":"2023-01-24T19:49:41+01:00","vendor":"FLEXA","type":"LATEX-MATTRESS_MATTRESS_SLEEP","tags":["200","90X200","COTTON-COVER","FLEXA-MATTRESS","FOAM-MATTRESS","LATEX-MATTRESS","MATTRESS","Pallet","SLEEP"],"price":1800,"price_min":1800,"price_max":1800,"available":true,"price_varies":false,"compare_at_price":null,"compare_at_price_min":0,"compare_at_price_max":0,"compare_at_price_varies":false,"variants":[{"id":44354918809890,"title":"Default Title","option1":"Default Title","option2":null,"option3":null,"sku":"83-10425","requires_shipping":true,"taxable":true,"featured_image":null,"available":true,"name":"FLEXA mattress, 200X90 cotton cover","public_title":null,"options":["Default Title"],"price":1800,"weight":25000,"compare_at_price":null,"inventory_management":"shopify","barcode":"5706459091150","requires_selling_plan":false,"selling_plan_allocations":[],"quantity_rule":{"min":1,"max":null,"increment":1}}],"images":["\/\/flexaworld.com\/cdn\/shop\/products\/83-10425_01.jpg?v=1678836916","\/\/flexaworld.com\/cdn\/shop\/products\/83-10425_11.jpg?v=1678836916","\/\/flexaworld.com\/cdn\/shop\/products\/83-10425_12.jpg?v=1678836916","\/\/flexaworld.com\/cdn\/shop\/products\/83-10425_21.jpg?v=1678836916","\/\/flexaworld.com\/cdn\/shop\/products\/83-10425_22.jpg?v=1678836916","\/\/flexaworld.com\/cdn\/shop\/products\/83-10425_52.jpg?v=1678836916","\/\/flexaworld.com\/cdn\/shop\/products\/83-10425_55.jpg?v=1678836916"],"featured_image":"\/\/flexaworld.com\/cdn\/shop\/products\/83-10425_01.jpg?v=1678836916","options":["Title"],"media":[{"alt":null,"id":33204614791458,"position":1,"preview_image":{"aspect_ratio":2.183,"height":938,"width":2048,"src":"\/\/flexaworld.com\/cdn\/shop\/products\/83-10425_01.jpg?v=1678836916"},"aspect_ratio":2.183,"height":938,"media_type":"image","src":"\/\/flexaworld.com\/cdn\/shop\/products\/83-10425_01.jpg?v=1678836916","width":2048},{"alt":null,"id":33204614824226,"position":2,"preview_image":{"aspect_ratio":1.778,"height":1152,"width":2048,"src":"\/\/flexaworld.com\/cdn\/shop\/products\/83-10425_11.jpg?v=1678836916"},"aspect_ratio":1.778,"height":1152,"media_type":"image","src":"\/\/flexaworld.com\/cdn\/shop\/products\/83-10425_11.jpg?v=1678836916","width":2048},{"alt":null,"id":33204614856994,"position":3,"preview_image":{"aspect_ratio":1.778,"height":1152,"width":2048,"src":"\/\/flexaworld.com\/cdn\/shop\/products\/83-10425_12.jpg?v=1678836916"},"aspect_ratio":1.778,"height":1152,"media_type":"image","src":"\/\/flexaworld.com\/cdn\/shop\/products\/83-10425_12.jpg?v=1678836916","width":2048},{"alt":null,"id":33204614889762,"position":4,"preview_image":{"aspect_ratio":1.778,"height":1152,"width":2048,"src":"\/\/flexaworld.com\/cdn\/shop\/products\/83-10425_21.jpg?v=1678836916"},"aspect_ratio":1.778,"height":1152,"media_type":"image","src":"\/\/flexaworld.com\/cdn\/shop\/products\/83-10425_21.jpg?v=1678836916","width":2048},{"alt":null,"id":33204614922530,"position":5,"preview_image":{"aspect_ratio":1.778,"height":1152,"width":2048,"src":"\/\/flexaworld.com\/cdn\/shop\/products\/83-10425_22.jpg?v=1678836916"},"aspect_ratio":1.778,"height":1152,"media_type":"image","src":"\/\/flexaworld.com\/cdn\/shop\/products\/83-10425_22.jpg?v=1678836916","width":2048},{"alt":null,"id":33204614955298,"position":6,"preview_image":{"aspect_ratio":6.804,"height":301,"width":2048,"src":"\/\/flexaworld.com\/cdn\/shop\/products\/83-10425_52.jpg?v=1678836916"},"aspect_ratio":6.804,"height":301,"media_type":"image","src":"\/\/flexaworld.com\/cdn\/shop\/products\/83-10425_52.jpg?v=1678836916","width":2048},{"alt":null,"id":33204614988066,"position":7,"preview_image":{"aspect_ratio":6.804,"height":301,"width":2048,"src":"\/\/flexaworld.com\/cdn\/shop\/products\/83-10425_55.jpg?v=1678836916"},"aspect_ratio":6.804,"height":301,"media_type":"image","src":"\/\/flexaworld.com\/cdn\/shop\/products\/83-10425_55.jpg?v=1678836916","width":2048}],"requires_selling_plan":false,"selling_plan_groups":[],"content":"\u003cp\u003eYour child's day is filled with new experiences, and at night your child needs peace and comfort to process them. Quality sleep boosts your child's ability to focus, remember and be creative, just as sleep is crucial to the successful development of your child's reading and mental maths skills.\n\nThe FLEXA Mattress has 3 cm of latex with cool gel on one side, 5 cm of cold foam in the middle and 4 cm of latex on the other side. Latex with air ducts provides good ventilation and transports moisture away from the body. \nThe mattress is reversible to secure the right support for the growing child.\nStart by using the side with the 3 cm of latex. When the child reaches 40 kg, turn the mattress. Suitable for children with sensitive skin or allergies. \nWater-repellent, non-woven inner cover\nThe mattress has a 5-year guarantee and is STANDARD 100 by OEKO-TEX®.\n\nThe cotton cover is 100% natural material, breathable and with a soft surface, which helps the child's body to breathe and regulate its temperature. The mattress cover is STANDARD 100 by OEKO-TEX®. Our mattress covers have a 2-year warranty.\u003c\/p\u003e"}
{"add_on_alternative_1_placeholder":"Alternative add-ons","add_on_alternative_2_placeholder":"Add some storage","add_on_standard_placeholder":"Complete with mattress","base_color":"White","care_instructions":["Machine wash 40C"],"certification":["OEKO-TEX"],"collection":"Sleep","collis-field":["83-10415, 83-70461"],"color":"White","color_references":["gid:\/\/shopify\/Product\/8091798077730"],"delivery_time":"2-5 business days","designer":"In the design of children furniture the designers always focus on the child and it's changing needs, and the products are all designed to improve children's lives in one way or the other. We design safe enviroments for childrens development and stimulate children's natural curiosity and creativity. This permeates everything we do – from product development to production.","designer_button":"Read more","designer_button_url":"https:\/\/www.flexaworld.com\/pages\/flexa-design-team","designer_header":"FLEXA Design Team","designer_image":"gid:\/\/shopify\/MediaImage\/32971482759458","height":{"value":12.0,"unit":"cm"},"is_assembled":false,"length":{"value":200.0,"unit":"cm"},"material_1":"Latex","material_2":"Foam","material_3":"Cotton","material_4":"Polyester","mattress_size":"90x200","measurement_image":"gid:\/\/shopify\/MediaImage\/32999851262242","oos_delivery_time":"12-12-2023","product_type":"Mattress","product_usp":"Fast delivery, Free delivery*, Certified safe payment ","product_usp_1_description":"FLEXA timber is PEFC® and FSC® certified, your guarantee that your child's furniture can be traced back to responsible forestry. All our textiles are STANDARD 100 by OEKO-TEX® which means they have been tested for harmful substances to protect your child's health.","product_usp_1_headline":"Certified Materials","product_usp_2_description":"FLEXA furniture is made to last. Many of our products can be adjusted and rebuilt in new ways to fit the changing needs of your growing child. Quality, durability, and timeless design are never out of fashion – you can easily pass down your child's FLEXA furniture for generations to come. ","product_usp_2_headline":"We Grow Together","product_usp_3_description":"For more than 50 years, FLEXA has brought joy to children around the world with our unique combination of Danish design and the highest standards of safety and quality. The name FLEXA refers to the flexibility of our products, all carefully designed to help your child develop, both when they sleep, play and study.","product_usp_3_headline":"FLEXA Since 1972","recommended_user_age":"3 years","warrenty1":"2 years","weight":"10.49856","width":{"value":90.0,"unit":"cm"}}
FLEXA mattress, 200X90 cotton cover
90x200 Latex, Foam, Cotton, Polyester
2 years
OEKO-TEX
Fast delivery, Free delivery*, Certified safe payment
{"id":8091795063074,"title":"FLEXA latex mattress, 200X90 cotton cover","handle":"flexa-latex-mattress-200x90-cotton-cover-white","description":"\u003cp\u003eYour child's day is filled with new experiences, and at night your child needs peace and comfort to process them. Quality sleep boosts your child's ability to focus, remember and be creative, just as sleep is crucial to the successful development of your child's reading and mental maths skills.\n\nFLEXA Latex.\n6 cm of latex and 6 cm of cold foam, which is pressure relieving, provides great support and adjusts to the shape of the body. Latex with airducts provides good ventilation and transports moisture away from the body. \nSuitable for children with sensitive skin or allergies. \nThe mattress has a water-repellent, non-woven inner cover.\nThe mattress has a 5-year guarantee and is STANDARD 100 by OEKO-TEX®.\n\nThe cotton cover is 100% natural material, breathable and with a soft surface, which helps the child's body to breathe and regulate its temperature. The mattress cover is STANDARD 100 by OEKO-TEX®. Our mattress covers have a 2-year warranty.\u003c\/p\u003e","published_at":"2023-01-26T15:17:11+01:00","created_at":"2023-01-24T19:46:30+01:00","vendor":"FLEXA","type":"LATEX-MATTRESS_MATTRESS_SLEEP","tags":["200","90X200","COTTON-COVER","GLS","LATEX-MATTRESS","MATTRESS","Postal","SLEEP"],"price":1500,"price_min":1500,"price_max":1500,"available":true,"price_varies":false,"compare_at_price":null,"compare_at_price_min":0,"compare_at_price_max":0,"compare_at_price_varies":false,"variants":[{"id":44354905014562,"title":"Default Title","option1":"Default Title","option2":null,"option3":null,"sku":"83-10419","requires_shipping":true,"taxable":true,"featured_image":null,"available":true,"name":"FLEXA latex mattress, 200X90 cotton cover","public_title":null,"options":["Default Title"],"price":1500,"weight":12740,"compare_at_price":null,"inventory_management":"shopify","barcode":"5706459091099","requires_selling_plan":false,"selling_plan_allocations":[],"quantity_rule":{"min":1,"max":null,"increment":1}}],"images":["\/\/flexaworld.com\/cdn\/shop\/products\/83-10419_01_7ac8c906-dd34-4c06-a15d-11daf6cb275a.jpg?v=1678836814","\/\/flexaworld.com\/cdn\/shop\/products\/83-10419_11_1231abf0-651a-4a53-8101-d4352e97c424.jpg?v=1678836814","\/\/flexaworld.com\/cdn\/shop\/products\/83-10419_12_ac78b30c-b453-4552-9fd9-3afbb0f70bd6.jpg?v=1678836814","\/\/flexaworld.com\/cdn\/shop\/products\/83-10419_21_e9a0144c-258d-40b0-b080-2e9504149422.jpg?v=1678836814","\/\/flexaworld.com\/cdn\/shop\/products\/83-10419_22_f0db5e48-8103-4f2c-958a-89d29f04dec8.jpg?v=1678836814","\/\/flexaworld.com\/cdn\/shop\/products\/83-10419_52_8718220d-1a0f-40e1-ad9b-d5d5fab37c35.jpg?v=1678836814","\/\/flexaworld.com\/cdn\/shop\/products\/83-10419_55_b003b6d5-0011-4327-8d25-3d06f0352645.jpg?v=1678836814"],"featured_image":"\/\/flexaworld.com\/cdn\/shop\/products\/83-10419_01_7ac8c906-dd34-4c06-a15d-11daf6cb275a.jpg?v=1678836814","options":["Title"],"media":[{"alt":null,"id":33204607713570,"position":1,"preview_image":{"aspect_ratio":2.183,"height":938,"width":2048,"src":"\/\/flexaworld.com\/cdn\/shop\/products\/83-10419_01_7ac8c906-dd34-4c06-a15d-11daf6cb275a.jpg?v=1678836814"},"aspect_ratio":2.183,"height":938,"media_type":"image","src":"\/\/flexaworld.com\/cdn\/shop\/products\/83-10419_01_7ac8c906-dd34-4c06-a15d-11daf6cb275a.jpg?v=1678836814","width":2048},{"alt":null,"id":33204607746338,"position":2,"preview_image":{"aspect_ratio":1.778,"height":1152,"width":2048,"src":"\/\/flexaworld.com\/cdn\/shop\/products\/83-10419_11_1231abf0-651a-4a53-8101-d4352e97c424.jpg?v=1678836814"},"aspect_ratio":1.778,"height":1152,"media_type":"image","src":"\/\/flexaworld.com\/cdn\/shop\/products\/83-10419_11_1231abf0-651a-4a53-8101-d4352e97c424.jpg?v=1678836814","width":2048},{"alt":null,"id":33204607779106,"position":3,"preview_image":{"aspect_ratio":1.778,"height":1152,"width":2048,"src":"\/\/flexaworld.com\/cdn\/shop\/products\/83-10419_12_ac78b30c-b453-4552-9fd9-3afbb0f70bd6.jpg?v=1678836814"},"aspect_ratio":1.778,"height":1152,"media_type":"image","src":"\/\/flexaworld.com\/cdn\/shop\/products\/83-10419_12_ac78b30c-b453-4552-9fd9-3afbb0f70bd6.jpg?v=1678836814","width":2048},{"alt":null,"id":33204607811874,"position":4,"preview_image":{"aspect_ratio":1.778,"height":1152,"width":2048,"src":"\/\/flexaworld.com\/cdn\/shop\/products\/83-10419_21_e9a0144c-258d-40b0-b080-2e9504149422.jpg?v=1678836814"},"aspect_ratio":1.778,"height":1152,"media_type":"image","src":"\/\/flexaworld.com\/cdn\/shop\/products\/83-10419_21_e9a0144c-258d-40b0-b080-2e9504149422.jpg?v=1678836814","width":2048},{"alt":null,"id":33204607844642,"position":5,"preview_image":{"aspect_ratio":1.778,"height":1152,"width":2048,"src":"\/\/flexaworld.com\/cdn\/shop\/products\/83-10419_22_f0db5e48-8103-4f2c-958a-89d29f04dec8.jpg?v=1678836814"},"aspect_ratio":1.778,"height":1152,"media_type":"image","src":"\/\/flexaworld.com\/cdn\/shop\/products\/83-10419_22_f0db5e48-8103-4f2c-958a-89d29f04dec8.jpg?v=1678836814","width":2048},{"alt":null,"id":33204607877410,"position":6,"preview_image":{"aspect_ratio":6.606,"height":310,"width":2048,"src":"\/\/flexaworld.com\/cdn\/shop\/products\/83-10419_52_8718220d-1a0f-40e1-ad9b-d5d5fab37c35.jpg?v=1678836814"},"aspect_ratio":6.606,"height":310,"media_type":"image","src":"\/\/flexaworld.com\/cdn\/shop\/products\/83-10419_52_8718220d-1a0f-40e1-ad9b-d5d5fab37c35.jpg?v=1678836814","width":2048},{"alt":null,"id":33204607910178,"position":7,"preview_image":{"aspect_ratio":6.36,"height":322,"width":2048,"src":"\/\/flexaworld.com\/cdn\/shop\/products\/83-10419_55_b003b6d5-0011-4327-8d25-3d06f0352645.jpg?v=1678836814"},"aspect_ratio":6.36,"height":322,"media_type":"image","src":"\/\/flexaworld.com\/cdn\/shop\/products\/83-10419_55_b003b6d5-0011-4327-8d25-3d06f0352645.jpg?v=1678836814","width":2048}],"requires_selling_plan":false,"selling_plan_groups":[],"content":"\u003cp\u003eYour child's day is filled with new experiences, and at night your child needs peace and comfort to process them. Quality sleep boosts your child's ability to focus, remember and be creative, just as sleep is crucial to the successful development of your child's reading and mental maths skills.\n\nFLEXA Latex.\n6 cm of latex and 6 cm of cold foam, which is pressure relieving, provides great support and adjusts to the shape of the body. Latex with airducts provides good ventilation and transports moisture away from the body. \nSuitable for children with sensitive skin or allergies. \nThe mattress has a water-repellent, non-woven inner cover.\nThe mattress has a 5-year guarantee and is STANDARD 100 by OEKO-TEX®.\n\nThe cotton cover is 100% natural material, breathable and with a soft surface, which helps the child's body to breathe and regulate its temperature. The mattress cover is STANDARD 100 by OEKO-TEX®. Our mattress covers have a 2-year warranty.\u003c\/p\u003e"}
{"add_on_alternative_1_placeholder":"Alternative add-ons","add_on_alternative_2_placeholder":"Add some storage","add_on_standard_placeholder":"Complete with mattress","base_color":"White","care_instructions":["Machine wash 40C"],"certification":["OEKO-TEX"],"collection":"Sleep","collis-field":["83-10302, 83-70461"],"color":"White","color_references":["gid:\/\/shopify\/Product\/8091795063074"],"delivery_time":"2-5 business days","designer":"In the design of children furniture the designers always focus on the child and it's changing needs, and the products are all designed to improve children's lives in one way or the other. We design safe enviroments for childrens development and stimulate children's natural curiosity and creativity. This permeates everything we do – from product development to production.","designer_button":"Read more","designer_button_url":"https:\/\/www.flexaworld.com\/pages\/flexa-design-team","designer_header":"FLEXA Design Team","designer_image":"gid:\/\/shopify\/MediaImage\/32971482759458","height":{"value":12.0,"unit":"cm"},"is_assembled":false,"length":{"value":200.0,"unit":"cm"},"material_1":"Latex","material_2":"Foam","material_3":"Cotton","mattress_size":"90x200","measurement_image":"gid:\/\/shopify\/MediaImage\/32999850410274","oos_delivery_time":"2-5 business days","product_type":"Mattress","product_usp":"Fast delivery, Free delivery*, Certified safe payment ","product_usp_1_description":"FLEXA timber is PEFC® and FSC® certified, your guarantee that your child's furniture can be traced back to responsible forestry. All our textiles are STANDARD 100 by OEKO-TEX® which means they have been tested for harmful substances to protect your child's health.","product_usp_1_headline":"Certified Materials","product_usp_2_description":"FLEXA furniture is made to last. Many of our products can be adjusted and rebuilt in new ways to fit the changing needs of your growing child. Quality, durability, and timeless design are never out of fashion – you can easily pass down your child's FLEXA furniture for generations to come. ","product_usp_2_headline":"We Grow Together","product_usp_3_description":"For more than 50 years, FLEXA has brought joy to children around the world with our unique combination of Danish design and the highest standards of safety and quality. The name FLEXA refers to the flexibility of our products, all carefully designed to help your child develop, both when they sleep, play and study.","product_usp_3_headline":"FLEXA Since 1972","recommended_user_age":"3 years","warrenty1":"2 years","weight":"12.74","width":{"value":90.0,"unit":"cm"}}
FLEXA latex mattress, 200X90 cotton cover
90x200 Latex, Foam, Cotton
2 years
OEKO-TEX
Fast delivery, Free delivery*, Certified safe payment
{"id":8091796734242,"title":"FLEXA spring mattress, 200X90 cotton cover","handle":"flexa-spring-mattress-200x90-cotton-cover-white","description":"\u003cp\u003eYour child's day is filled with new experiences, and at night your child needs peace and comfort to process them. Quality sleep boosts your child's ability to focus, remember and be creative, just as sleep is crucial to the successful development of your child's reading and mental maths skills.\n\nFLEXA Spring.\n12 cm pocket spring mattress with individually packed springs that smoothly adjust to the body. \nThe spring structure ensures good ventilation and prevents overheating, The mattress is covered with a soft HR foam layer for extra comfort and durability. \n\nThe mattress has a water-repellent non-woven inner cover.\nThe mattress has a 15-year guarantee and is STANDARD 100 by OEKO-TEX®.\n\nThe cotton cover is 100% natural material, breathable and with a soft surface, which helps the child's body to breathe and regulate its temperature. The mattress cover is STANDARD 100 by OEKO-TEX®. Our mattress covers have a 2-year warranty.\n\nNOTE: Please note that our FLEXA spring mattresses cannot be used with our pull-out and guest beds. This also applies to the pull-out and guest beds, which can be purchased for our single beds. \u003c\/p\u003e","published_at":"2023-01-26T15:17:08+01:00","created_at":"2023-01-24T19:48:21+01:00","vendor":"FLEXA","type":"MATTRESS_SLEEP_SPRUNG-MATTRESS","tags":["200","90X200","COTTON-COVER","MATTRESS","Pallet","POCKET-SPRING-MATTRESS","SLEEP"],"price":1300,"price_min":1300,"price_max":1300,"available":true,"price_varies":false,"compare_at_price":null,"compare_at_price_min":0,"compare_at_price_max":0,"compare_at_price_varies":false,"variants":[{"id":44354913009954,"title":"Default Title","option1":"Default Title","option2":null,"option3":null,"sku":"83-10422","requires_shipping":true,"taxable":true,"featured_image":null,"available":true,"name":"FLEXA spring mattress, 200X90 cotton cover","public_title":null,"options":["Default Title"],"price":1300,"weight":25000,"compare_at_price":null,"inventory_management":"shopify","barcode":"5706459091129","requires_selling_plan":false,"selling_plan_allocations":[],"quantity_rule":{"min":1,"max":null,"increment":1}}],"images":["\/\/flexaworld.com\/cdn\/shop\/products\/83-10422_01.jpg?v=1678836864","\/\/flexaworld.com\/cdn\/shop\/products\/83-10422_11.jpg?v=1678836864","\/\/flexaworld.com\/cdn\/shop\/products\/83-10422_12.jpg?v=1678836864","\/\/flexaworld.com\/cdn\/shop\/products\/83-10422_21.jpg?v=1678836864","\/\/flexaworld.com\/cdn\/shop\/products\/83-10422_22.jpg?v=1678836864","\/\/flexaworld.com\/cdn\/shop\/products\/83-10422_52.jpg?v=1678836864","\/\/flexaworld.com\/cdn\/shop\/products\/83-10422_55.jpg?v=1678836864"],"featured_image":"\/\/flexaworld.com\/cdn\/shop\/products\/83-10422_01.jpg?v=1678836864","options":["Title"],"media":[{"alt":null,"id":33204610924834,"position":1,"preview_image":{"aspect_ratio":2.183,"height":938,"width":2048,"src":"\/\/flexaworld.com\/cdn\/shop\/products\/83-10422_01.jpg?v=1678836864"},"aspect_ratio":2.183,"height":938,"media_type":"image","src":"\/\/flexaworld.com\/cdn\/shop\/products\/83-10422_01.jpg?v=1678836864","width":2048},{"alt":null,"id":33204610957602,"position":2,"preview_image":{"aspect_ratio":1.778,"height":1152,"width":2048,"src":"\/\/flexaworld.com\/cdn\/shop\/products\/83-10422_11.jpg?v=1678836864"},"aspect_ratio":1.778,"height":1152,"media_type":"image","src":"\/\/flexaworld.com\/cdn\/shop\/products\/83-10422_11.jpg?v=1678836864","width":2048},{"alt":null,"id":33204610990370,"position":3,"preview_image":{"aspect_ratio":1.778,"height":1152,"width":2048,"src":"\/\/flexaworld.com\/cdn\/shop\/products\/83-10422_12.jpg?v=1678836864"},"aspect_ratio":1.778,"height":1152,"media_type":"image","src":"\/\/flexaworld.com\/cdn\/shop\/products\/83-10422_12.jpg?v=1678836864","width":2048},{"alt":null,"id":33204611023138,"position":4,"preview_image":{"aspect_ratio":1.778,"height":1152,"width":2048,"src":"\/\/flexaworld.com\/cdn\/shop\/products\/83-10422_21.jpg?v=1678836864"},"aspect_ratio":1.778,"height":1152,"media_type":"image","src":"\/\/flexaworld.com\/cdn\/shop\/products\/83-10422_21.jpg?v=1678836864","width":2048},{"alt":null,"id":33204611055906,"position":5,"preview_image":{"aspect_ratio":1.778,"height":1152,"width":2048,"src":"\/\/flexaworld.com\/cdn\/shop\/products\/83-10422_22.jpg?v=1678836864"},"aspect_ratio":1.778,"height":1152,"media_type":"image","src":"\/\/flexaworld.com\/cdn\/shop\/products\/83-10422_22.jpg?v=1678836864","width":2048},{"alt":null,"id":33204611088674,"position":6,"preview_image":{"aspect_ratio":6.759,"height":303,"width":2048,"src":"\/\/flexaworld.com\/cdn\/shop\/products\/83-10422_52.jpg?v=1678836864"},"aspect_ratio":6.759,"height":303,"media_type":"image","src":"\/\/flexaworld.com\/cdn\/shop\/products\/83-10422_52.jpg?v=1678836864","width":2048},{"alt":null,"id":33204611121442,"position":7,"preview_image":{"aspect_ratio":5.818,"height":352,"width":2048,"src":"\/\/flexaworld.com\/cdn\/shop\/products\/83-10422_55.jpg?v=1678836864"},"aspect_ratio":5.818,"height":352,"media_type":"image","src":"\/\/flexaworld.com\/cdn\/shop\/products\/83-10422_55.jpg?v=1678836864","width":2048}],"requires_selling_plan":false,"selling_plan_groups":[],"content":"\u003cp\u003eYour child's day is filled with new experiences, and at night your child needs peace and comfort to process them. Quality sleep boosts your child's ability to focus, remember and be creative, just as sleep is crucial to the successful development of your child's reading and mental maths skills.\n\nFLEXA Spring.\n12 cm pocket spring mattress with individually packed springs that smoothly adjust to the body. \nThe spring structure ensures good ventilation and prevents overheating, The mattress is covered with a soft HR foam layer for extra comfort and durability. \n\nThe mattress has a water-repellent non-woven inner cover.\nThe mattress has a 15-year guarantee and is STANDARD 100 by OEKO-TEX®.\n\nThe cotton cover is 100% natural material, breathable and with a soft surface, which helps the child's body to breathe and regulate its temperature. The mattress cover is STANDARD 100 by OEKO-TEX®. Our mattress covers have a 2-year warranty.\n\nNOTE: Please note that our FLEXA spring mattresses cannot be used with our pull-out and guest beds. This also applies to the pull-out and guest beds, which can be purchased for our single beds. \u003c\/p\u003e"}
{"add_on_alternative_1_placeholder":"Alternative add-ons","add_on_alternative_2_placeholder":"Add some storage","add_on_standard_placeholder":"Complete with mattress","base_color":"White","care_instructions":["Machine wash 40C"],"certification":["OEKO-TEX"],"collection":"Sleep","collis-field":["83-10304, 83-70461"],"color":"White","color_references":["gid:\/\/shopify\/Product\/8091796734242"],"delivery_time":"2-5 business days","designer":"In the design of children furniture the designers always focus on the child and it's changing needs, and the products are all designed to improve children's lives in one way or the other. We design safe enviroments for childrens development and stimulate children's natural curiosity and creativity. This permeates everything we do – from product development to production.","designer_button":"Read more","designer_button_url":"https:\/\/www.flexaworld.com\/pages\/flexa-design-team","designer_header":"FLEXA Design Team","designer_image":"gid:\/\/shopify\/MediaImage\/32971482759458","height":{"value":12.0,"unit":"cm"},"is_assembled":false,"length":{"value":200.0,"unit":"cm"},"material_1":"Sprung","material_2":"Foam","material_3":"Cotton","mattress_size":"90x200","measurement_image":"gid:\/\/shopify\/MediaImage\/32999850901794","oos_delivery_time":"2-5 business days","product_type":"Mattress","product_usp":"Fast delivery, Free delivery*, Certified safe payment ","product_usp_1_description":"FLEXA timber is PEFC® and FSC® certified, your guarantee that your child's furniture can be traced back to responsible forestry. All our textiles are STANDARD 100 by OEKO-TEX® which means they have been tested for harmful substances to protect your child's health.","product_usp_1_headline":"Certified Materials","product_usp_2_description":"FLEXA furniture is made to last. Many of our products can be adjusted and rebuilt in new ways to fit the changing needs of your growing child. Quality, durability, and timeless design are never out of fashion – you can easily pass down your child's FLEXA furniture for generations to come. ","product_usp_2_headline":"We Grow Together","product_usp_3_description":"For more than 50 years, FLEXA has brought joy to children around the world with our unique combination of Danish design and the highest standards of safety and quality. The name FLEXA refers to the flexibility of our products, all carefully designed to help your child develop, both when they sleep, play and study.","product_usp_3_headline":"FLEXA Since 1972","recommended_user_age":"3 years","warrenty1":"2 years","weight":"12.28","width":{"value":90.0,"unit":"cm"}}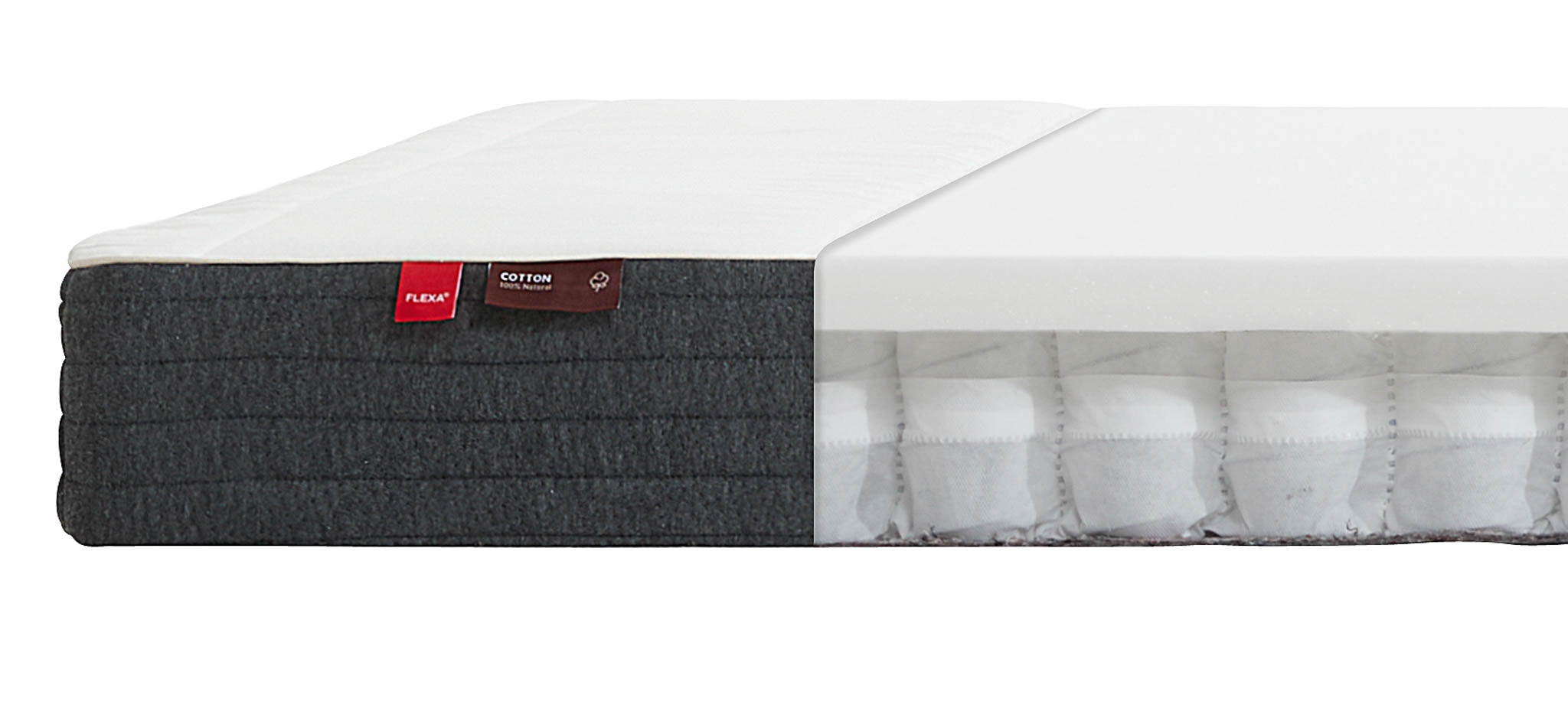 FLEXA spring mattress, 200X90 cotton cover
90x200 Sprung, Foam, Cotton
2 years
OEKO-TEX
Fast delivery, Free delivery*, Certified safe payment
{"id":8091793850658,"title":"FLEXA foam mattress, 200X90 cotton cover","handle":"flexa-foam-mattress-200x90-cotton-cover-white","description":"\u003cp\u003eYour child's day is filled with new experiences, and at night your child needs peace and comfort to process them. Quality sleep boosts your child's ability to focus, remember and be creative, just as sleep is crucial to the successful development of your child's reading and mental maths skills.\n\nGood 12 cm foam mattress with square top. The top layer ensures a flexible mattress that adapts to the body's movements and provides extra comfort and support. The square top also ensures good ventilation and prevents overheating. All of the mattresses have a non-woven, antibacterial and water-repellent inner cover. \n\nThis mattress has a 2-year warranty.\n\nThe cotton cover is 100% natural material, breathable and with a soft surface, which helps the child's body to breathe and regulate its temperature. The mattress cover is STANDARD 100 by OEKO-TEX®. Our mattress covers have a 2-year warranty.\u003c\/p\u003e","published_at":"2023-01-26T15:17:14+01:00","created_at":"2023-01-24T19:45:05+01:00","vendor":"FLEXA","type":"FOAM-MATTRESS_MATTRESS_SLEEP","tags":["200","90X200","COTTON-COVER","FOAM-MATTRESS","GLS","MATTRESS","Postal","SLEEP"],"price":1100,"price_min":1100,"price_max":1100,"available":true,"price_varies":false,"compare_at_price":null,"compare_at_price_min":0,"compare_at_price_max":0,"compare_at_price_varies":false,"variants":[{"id":44354899411234,"title":"Default Title","option1":"Default Title","option2":null,"option3":null,"sku":"83-10416","requires_shipping":true,"taxable":true,"featured_image":null,"available":true,"name":"FLEXA foam mattress, 200X90 cotton cover","public_title":null,"options":["Default Title"],"price":1100,"weight":7440,"compare_at_price":null,"inventory_management":"shopify","barcode":"5706459091068","requires_selling_plan":false,"selling_plan_allocations":[],"quantity_rule":{"min":1,"max":null,"increment":1}}],"images":["\/\/flexaworld.com\/cdn\/shop\/products\/83-10416_01.jpg?v=1678836766","\/\/flexaworld.com\/cdn\/shop\/products\/83-10416_11.jpg?v=1678836766","\/\/flexaworld.com\/cdn\/shop\/products\/83-10416_12.jpg?v=1678836767","\/\/flexaworld.com\/cdn\/shop\/products\/83-10416_21.jpg?v=1678836767","\/\/flexaworld.com\/cdn\/shop\/products\/83-10416_22.jpg?v=1678836767","\/\/flexaworld.com\/cdn\/shop\/products\/83-10416_52.jpg?v=1678836767","\/\/flexaworld.com\/cdn\/shop\/products\/83-10416_55.jpg?v=1678836767"],"featured_image":"\/\/flexaworld.com\/cdn\/shop\/products\/83-10416_01.jpg?v=1678836766","options":["Title"],"media":[{"alt":null,"id":33204604436770,"position":1,"preview_image":{"aspect_ratio":2.183,"height":938,"width":2048,"src":"\/\/flexaworld.com\/cdn\/shop\/products\/83-10416_01.jpg?v=1678836766"},"aspect_ratio":2.183,"height":938,"media_type":"image","src":"\/\/flexaworld.com\/cdn\/shop\/products\/83-10416_01.jpg?v=1678836766","width":2048},{"alt":null,"id":33204604469538,"position":2,"preview_image":{"aspect_ratio":1.778,"height":1152,"width":2048,"src":"\/\/flexaworld.com\/cdn\/shop\/products\/83-10416_11.jpg?v=1678836766"},"aspect_ratio":1.778,"height":1152,"media_type":"image","src":"\/\/flexaworld.com\/cdn\/shop\/products\/83-10416_11.jpg?v=1678836766","width":2048},{"alt":null,"id":33204604502306,"position":3,"preview_image":{"aspect_ratio":1.778,"height":1152,"width":2048,"src":"\/\/flexaworld.com\/cdn\/shop\/products\/83-10416_12.jpg?v=1678836767"},"aspect_ratio":1.778,"height":1152,"media_type":"image","src":"\/\/flexaworld.com\/cdn\/shop\/products\/83-10416_12.jpg?v=1678836767","width":2048},{"alt":null,"id":33204604535074,"position":4,"preview_image":{"aspect_ratio":1.778,"height":1152,"width":2048,"src":"\/\/flexaworld.com\/cdn\/shop\/products\/83-10416_21.jpg?v=1678836767"},"aspect_ratio":1.778,"height":1152,"media_type":"image","src":"\/\/flexaworld.com\/cdn\/shop\/products\/83-10416_21.jpg?v=1678836767","width":2048},{"alt":null,"id":33204604567842,"position":5,"preview_image":{"aspect_ratio":1.778,"height":1152,"width":2048,"src":"\/\/flexaworld.com\/cdn\/shop\/products\/83-10416_22.jpg?v=1678836767"},"aspect_ratio":1.778,"height":1152,"media_type":"image","src":"\/\/flexaworld.com\/cdn\/shop\/products\/83-10416_22.jpg?v=1678836767","width":2048},{"alt":null,"id":33204604600610,"position":6,"preview_image":{"aspect_ratio":6.804,"height":301,"width":2048,"src":"\/\/flexaworld.com\/cdn\/shop\/products\/83-10416_52.jpg?v=1678836767"},"aspect_ratio":6.804,"height":301,"media_type":"image","src":"\/\/flexaworld.com\/cdn\/shop\/products\/83-10416_52.jpg?v=1678836767","width":2048},{"alt":null,"id":33204604633378,"position":7,"preview_image":{"aspect_ratio":6.187,"height":331,"width":2048,"src":"\/\/flexaworld.com\/cdn\/shop\/products\/83-10416_55.jpg?v=1678836767"},"aspect_ratio":6.187,"height":331,"media_type":"image","src":"\/\/flexaworld.com\/cdn\/shop\/products\/83-10416_55.jpg?v=1678836767","width":2048}],"requires_selling_plan":false,"selling_plan_groups":[],"content":"\u003cp\u003eYour child's day is filled with new experiences, and at night your child needs peace and comfort to process them. Quality sleep boosts your child's ability to focus, remember and be creative, just as sleep is crucial to the successful development of your child's reading and mental maths skills.\n\nGood 12 cm foam mattress with square top. The top layer ensures a flexible mattress that adapts to the body's movements and provides extra comfort and support. The square top also ensures good ventilation and prevents overheating. All of the mattresses have a non-woven, antibacterial and water-repellent inner cover. \n\nThis mattress has a 2-year warranty.\n\nThe cotton cover is 100% natural material, breathable and with a soft surface, which helps the child's body to breathe and regulate its temperature. The mattress cover is STANDARD 100 by OEKO-TEX®. Our mattress covers have a 2-year warranty.\u003c\/p\u003e"}
{"add_on_alternative_1_placeholder":"Alternative add-ons","add_on_alternative_2_placeholder":"Add some storage","add_on_standard_placeholder":"Complete with mattress","base_color":"White","care_instructions":["Machine wash 40C"],"certification":["OEKO-TEX"],"collection":"Sleep","collis-field":["83-10300, 83-70461"],"color":"White","color_references":["gid:\/\/shopify\/Product\/8091793850658"],"delivery_time":"2-5 business days","designer":"In the design of children furniture the designers always focus on the child and it's changing needs, and the products are all designed to improve children's lives in one way or the other. We design safe enviroments for childrens development and stimulate children's natural curiosity and creativity. This permeates everything we do – from product development to production.","designer_button":"Read more","designer_button_url":"https:\/\/www.flexaworld.com\/pages\/flexa-design-team","designer_header":"FLEXA Design Team","designer_image":"gid:\/\/shopify\/MediaImage\/32971482759458","height":{"value":12.0,"unit":"cm"},"is_assembled":false,"length":{"value":200.0,"unit":"cm"},"material_1":"Foam","material_2":"Cotton","mattress_size":"90x200","measurement_image":"gid:\/\/shopify\/MediaImage\/32999850377506","oos_delivery_time":"2-5 business days","product_type":"Mattress","product_usp":"Fast delivery, Free delivery*, Certified safe payment ","product_usp_1_description":"FLEXA timber is PEFC® and FSC® certified, your guarantee that your child's furniture can be traced back to responsible forestry. All our textiles are STANDARD 100 by OEKO-TEX® which means they have been tested for harmful substances to protect your child's health.","product_usp_1_headline":"Certified Materials","product_usp_2_description":"FLEXA furniture is made to last. Many of our products can be adjusted and rebuilt in new ways to fit the changing needs of your growing child. Quality, durability, and timeless design are never out of fashion – you can easily pass down your child's FLEXA furniture for generations to come. ","product_usp_2_headline":"We Grow Together","product_usp_3_description":"For more than 50 years, FLEXA has brought joy to children around the world with our unique combination of Danish design and the highest standards of safety and quality. The name FLEXA refers to the flexibility of our products, all carefully designed to help your child develop, both when they sleep, play and study.","product_usp_3_headline":"FLEXA Since 1972","recommended_user_age":"3 years","warrenty1":"2 years","weight":"7.44","width":{"value":90.0,"unit":"cm"}}
FLEXA foam mattress, 200X90 cotton cover
90x200 Foam, Cotton
2 years
OEKO-TEX
Fast delivery, Free delivery*, Certified safe payment
{"id":8091796209954,"title":"FLEXA latex mattress, 200X90 eucalyptus cover","handle":"flexa-latex-mattress-200x90-eucalyptus-cover-white","description":"\u003cp\u003eYour child's day is filled with new experiences, and at night your child needs peace and comfort to process them. Quality sleep boosts your child's ability to focus, remember and be creative, just as sleep is crucial to the successful development of your child's reading and mental maths skills.\n\nFLEXA Latex.\n6 cm of latex and 6 cm of cold foam, which is pressure relieving, provides great support and adjusts to the shape of the body. \nLatex with airducts provides good ventilation and transports moisture away from the body. \nSuitable for children with sensitive skin or allergies. \nThe mattress has a water-repellent non-woven inner cover.\nThe mattress has a 5-year guarantee and is STANDARD 100 by OEKO-TEX®.\n\nThe eucalyptus cover is perfect for children who sweat at night. It has a cooling effect, helping the child to transport the heat away from the body. The cover has a good ability to absorb moisture, ensuring that the sleeping environment is dry and comfortable. The mattress cover is STANDARD 100 by OEKO-TEX®. Our mattress covers have a 2-year warranty.\u003c\/p\u003e","published_at":"2023-01-26T15:17:09+01:00","created_at":"2023-01-24T19:47:55+01:00","vendor":"FLEXA","type":"LATEX-MATTRESS_MATTRESS_SLEEP","tags":["200","90X200","EUCALYPTUS-COVER","GLS","LATEX-MATTRESS","MATTRESS","Postal","SLEEP"],"price":1600,"price_min":1600,"price_max":1600,"available":true,"price_varies":false,"compare_at_price":null,"compare_at_price_min":0,"compare_at_price_max":0,"compare_at_price_varies":false,"variants":[{"id":44354911764770,"title":"Default Title","option1":"Default Title","option2":null,"option3":null,"sku":"83-10421","requires_shipping":true,"taxable":true,"featured_image":null,"available":true,"name":"FLEXA latex mattress, 200X90 eucalyptus cover","public_title":null,"options":["Default Title"],"price":1600,"weight":12740,"compare_at_price":null,"inventory_management":"shopify","barcode":"5706459091112","requires_selling_plan":false,"selling_plan_allocations":[],"quantity_rule":{"min":1,"max":null,"increment":1}}],"images":["\/\/flexaworld.com\/cdn\/shop\/products\/83-10421_01.jpg?v=1678836848","\/\/flexaworld.com\/cdn\/shop\/products\/83-10421_11.jpg?v=1678836848","\/\/flexaworld.com\/cdn\/shop\/products\/83-10421_12.jpg?v=1678836848","\/\/flexaworld.com\/cdn\/shop\/products\/83-10421_21.jpg?v=1678836848","\/\/flexaworld.com\/cdn\/shop\/products\/83-10421_22.jpg?v=1678836848","\/\/flexaworld.com\/cdn\/shop\/products\/83-10421_52.jpg?v=1678836848","\/\/flexaworld.com\/cdn\/shop\/products\/83-10421_55.jpg?v=1678836848"],"featured_image":"\/\/flexaworld.com\/cdn\/shop\/products\/83-10421_01.jpg?v=1678836848","options":["Title"],"media":[{"alt":null,"id":33204610072866,"position":1,"preview_image":{"aspect_ratio":2.183,"height":938,"width":2048,"src":"\/\/flexaworld.com\/cdn\/shop\/products\/83-10421_01.jpg?v=1678836848"},"aspect_ratio":2.183,"height":938,"media_type":"image","src":"\/\/flexaworld.com\/cdn\/shop\/products\/83-10421_01.jpg?v=1678836848","width":2048},{"alt":null,"id":33204610105634,"position":2,"preview_image":{"aspect_ratio":1.778,"height":1152,"width":2048,"src":"\/\/flexaworld.com\/cdn\/shop\/products\/83-10421_11.jpg?v=1678836848"},"aspect_ratio":1.778,"height":1152,"media_type":"image","src":"\/\/flexaworld.com\/cdn\/shop\/products\/83-10421_11.jpg?v=1678836848","width":2048},{"alt":null,"id":33204610138402,"position":3,"preview_image":{"aspect_ratio":1.778,"height":1152,"width":2048,"src":"\/\/flexaworld.com\/cdn\/shop\/products\/83-10421_12.jpg?v=1678836848"},"aspect_ratio":1.778,"height":1152,"media_type":"image","src":"\/\/flexaworld.com\/cdn\/shop\/products\/83-10421_12.jpg?v=1678836848","width":2048},{"alt":null,"id":33204610171170,"position":4,"preview_image":{"aspect_ratio":1.778,"height":1152,"width":2048,"src":"\/\/flexaworld.com\/cdn\/shop\/products\/83-10421_21.jpg?v=1678836848"},"aspect_ratio":1.778,"height":1152,"media_type":"image","src":"\/\/flexaworld.com\/cdn\/shop\/products\/83-10421_21.jpg?v=1678836848","width":2048},{"alt":null,"id":33204610203938,"position":5,"preview_image":{"aspect_ratio":1.778,"height":1152,"width":2048,"src":"\/\/flexaworld.com\/cdn\/shop\/products\/83-10421_22.jpg?v=1678836848"},"aspect_ratio":1.778,"height":1152,"media_type":"image","src":"\/\/flexaworld.com\/cdn\/shop\/products\/83-10421_22.jpg?v=1678836848","width":2048},{"alt":null,"id":33204610236706,"position":6,"preview_image":{"aspect_ratio":6.606,"height":310,"width":2048,"src":"\/\/flexaworld.com\/cdn\/shop\/products\/83-10421_52.jpg?v=1678836848"},"aspect_ratio":6.606,"height":310,"media_type":"image","src":"\/\/flexaworld.com\/cdn\/shop\/products\/83-10421_52.jpg?v=1678836848","width":2048},{"alt":null,"id":33204610269474,"position":7,"preview_image":{"aspect_ratio":6.244,"height":328,"width":2048,"src":"\/\/flexaworld.com\/cdn\/shop\/products\/83-10421_55.jpg?v=1678836848"},"aspect_ratio":6.244,"height":328,"media_type":"image","src":"\/\/flexaworld.com\/cdn\/shop\/products\/83-10421_55.jpg?v=1678836848","width":2048}],"requires_selling_plan":false,"selling_plan_groups":[],"content":"\u003cp\u003eYour child's day is filled with new experiences, and at night your child needs peace and comfort to process them. Quality sleep boosts your child's ability to focus, remember and be creative, just as sleep is crucial to the successful development of your child's reading and mental maths skills.\n\nFLEXA Latex.\n6 cm of latex and 6 cm of cold foam, which is pressure relieving, provides great support and adjusts to the shape of the body. \nLatex with airducts provides good ventilation and transports moisture away from the body. \nSuitable for children with sensitive skin or allergies. \nThe mattress has a water-repellent non-woven inner cover.\nThe mattress has a 5-year guarantee and is STANDARD 100 by OEKO-TEX®.\n\nThe eucalyptus cover is perfect for children who sweat at night. It has a cooling effect, helping the child to transport the heat away from the body. The cover has a good ability to absorb moisture, ensuring that the sleeping environment is dry and comfortable. The mattress cover is STANDARD 100 by OEKO-TEX®. Our mattress covers have a 2-year warranty.\u003c\/p\u003e"}
{"add_on_alternative_1_placeholder":"Alternative add-ons","add_on_alternative_2_placeholder":"Add some storage","add_on_standard_placeholder":"Complete with mattress","base_color":"White","care_instructions":["Machine wash 40C"],"certification":["OEKO-TEX"],"collection":"Sleep","collis-field":["83-10302, 83-70463"],"color":"White","color_references":["gid:\/\/shopify\/Product\/8091796209954"],"delivery_time":"2-5 business days","designer":"In the design of children furniture the designers always focus on the child and it's changing needs, and the products are all designed to improve children's lives in one way or the other. We design safe enviroments for childrens development and stimulate children's natural curiosity and creativity. This permeates everything we do – from product development to production.","designer_button":"Read more","designer_button_url":"https:\/\/www.flexaworld.com\/pages\/flexa-design-team","designer_header":"FLEXA Design Team","designer_image":"gid:\/\/shopify\/MediaImage\/32971482759458","height":{"value":12.0,"unit":"cm"},"is_assembled":false,"length":{"value":200.0,"unit":"cm"},"material_1":"Latex","material_2":"Foam","material_3":"Polyester","mattress_size":"90x200","measurement_image":"gid:\/\/shopify\/MediaImage\/32999850443042","oos_delivery_time":"2-5 business days","product_type":"Mattress","product_usp":"Fast delivery, Free delivery*, Certified safe payment ","product_usp_1_description":"FLEXA timber is PEFC® and FSC® certified, your guarantee that your child's furniture can be traced back to responsible forestry. All our textiles are STANDARD 100 by OEKO-TEX® which means they have been tested for harmful substances to protect your child's health.","product_usp_1_headline":"Certified Materials","product_usp_2_description":"FLEXA furniture is made to last. Many of our products can be adjusted and rebuilt in new ways to fit the changing needs of your growing child. Quality, durability, and timeless design are never out of fashion – you can easily pass down your child's FLEXA furniture for generations to come. ","product_usp_2_headline":"We Grow Together","product_usp_3_description":"For more than 50 years, FLEXA has brought joy to children around the world with our unique combination of Danish design and the highest standards of safety and quality. The name FLEXA refers to the flexibility of our products, all carefully designed to help your child develop, both when they sleep, play and study.","product_usp_3_headline":"FLEXA Since 1972","recommended_user_age":"3 years","warrenty1":"2 years","weight":"12.74","width":{"value":90.0,"unit":"cm"}}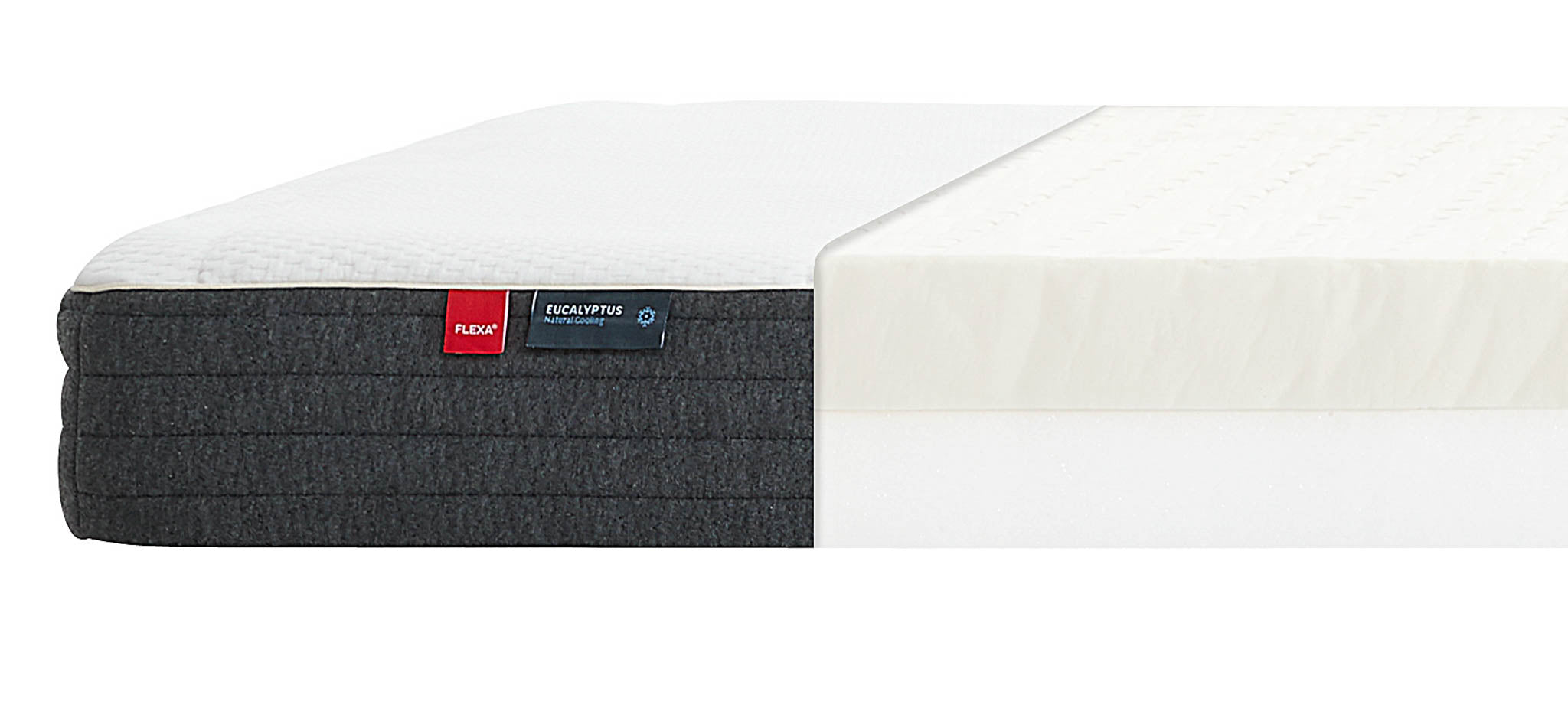 FLEXA latex mattress, 200X90 eucalyptus cover
90x200 Latex, Foam, Polyester
2 years
OEKO-TEX
Fast delivery, Free delivery*, Certified safe payment
{"id":8091795980578,"title":"FLEXA latex mattress, 200X90 bamboo cover","handle":"flexa-latex-mattress-200x90-bamboo-cover-white","description":"\u003cp\u003eYour child's day is filled with new experiences, and at night your child needs peace and comfort to process them. Quality sleep boosts your child's ability to focus, remember and be creative, just as sleep is crucial to the successful development of your child's reading and mental maths skills.\n\nFLEXA Latex.\n6 cm of latex and 6 cm of cold foam which is pressure relieving, provides great support and adjusts to the shape of the body. \nLatex with airducts provides good ventilation and transports moisture away from the body. Suitable for children with sensitive skin or allergies. \nThe mattress has a water-repellent, non-woven inner cover.\nThe mattress has a 5-year guarantee and is STANDARD 100 by OEKO-TEX®.\n\nThe bamboo cover is perfect for children with sensitive skin or allergies. The cover is antibacterial, creating a hygienic sleeping environment. It also has a silky soft surface. The mattress cover is STANDARD 100 by OEKO-TEX®. Our mattress covers have a 2-year warranty.\u003c\/p\u003e","published_at":"2023-01-26T15:17:10+01:00","created_at":"2023-01-24T19:47:28+01:00","vendor":"FLEXA","type":"LATEX-MATTRESS_MATTRESS_SLEEP","tags":["200","90X200","BAMBOO-COVER","GLS","LATEX-MATTRESS","MATTRESS","Postal","SLEEP"],"price":1600,"price_min":1600,"price_max":1600,"available":true,"price_varies":false,"compare_at_price":null,"compare_at_price_min":0,"compare_at_price_max":0,"compare_at_price_varies":false,"variants":[{"id":44354910585122,"title":"Default Title","option1":"Default Title","option2":null,"option3":null,"sku":"83-10420","requires_shipping":true,"taxable":true,"featured_image":null,"available":true,"name":"FLEXA latex mattress, 200X90 bamboo cover","public_title":null,"options":["Default Title"],"price":1600,"weight":12740,"compare_at_price":null,"inventory_management":"shopify","barcode":"5706459091105","requires_selling_plan":false,"selling_plan_allocations":[],"quantity_rule":{"min":1,"max":null,"increment":1}}],"images":["\/\/flexaworld.com\/cdn\/shop\/products\/83-10420_01.jpg?v=1678836832","\/\/flexaworld.com\/cdn\/shop\/products\/83-10420_11.jpg?v=1678836832","\/\/flexaworld.com\/cdn\/shop\/products\/83-10420_12.jpg?v=1678836832","\/\/flexaworld.com\/cdn\/shop\/products\/83-10420_21.jpg?v=1678836832","\/\/flexaworld.com\/cdn\/shop\/products\/83-10420_22.jpg?v=1678836832","\/\/flexaworld.com\/cdn\/shop\/products\/83-10420_52.jpg?v=1678836832","\/\/flexaworld.com\/cdn\/shop\/products\/83-10420_55.jpg?v=1678836832"],"featured_image":"\/\/flexaworld.com\/cdn\/shop\/products\/83-10420_01.jpg?v=1678836832","options":["Title"],"media":[{"alt":null,"id":33204609188130,"position":1,"preview_image":{"aspect_ratio":2.183,"height":938,"width":2048,"src":"\/\/flexaworld.com\/cdn\/shop\/products\/83-10420_01.jpg?v=1678836832"},"aspect_ratio":2.183,"height":938,"media_type":"image","src":"\/\/flexaworld.com\/cdn\/shop\/products\/83-10420_01.jpg?v=1678836832","width":2048},{"alt":null,"id":33204609220898,"position":2,"preview_image":{"aspect_ratio":1.778,"height":1152,"width":2048,"src":"\/\/flexaworld.com\/cdn\/shop\/products\/83-10420_11.jpg?v=1678836832"},"aspect_ratio":1.778,"height":1152,"media_type":"image","src":"\/\/flexaworld.com\/cdn\/shop\/products\/83-10420_11.jpg?v=1678836832","width":2048},{"alt":null,"id":33204609253666,"position":3,"preview_image":{"aspect_ratio":1.778,"height":1152,"width":2048,"src":"\/\/flexaworld.com\/cdn\/shop\/products\/83-10420_12.jpg?v=1678836832"},"aspect_ratio":1.778,"height":1152,"media_type":"image","src":"\/\/flexaworld.com\/cdn\/shop\/products\/83-10420_12.jpg?v=1678836832","width":2048},{"alt":null,"id":33204609286434,"position":4,"preview_image":{"aspect_ratio":1.778,"height":1152,"width":2048,"src":"\/\/flexaworld.com\/cdn\/shop\/products\/83-10420_21.jpg?v=1678836832"},"aspect_ratio":1.778,"height":1152,"media_type":"image","src":"\/\/flexaworld.com\/cdn\/shop\/products\/83-10420_21.jpg?v=1678836832","width":2048},{"alt":null,"id":33204609319202,"position":5,"preview_image":{"aspect_ratio":1.778,"height":1152,"width":2048,"src":"\/\/flexaworld.com\/cdn\/shop\/products\/83-10420_22.jpg?v=1678836832"},"aspect_ratio":1.778,"height":1152,"media_type":"image","src":"\/\/flexaworld.com\/cdn\/shop\/products\/83-10420_22.jpg?v=1678836832","width":2048},{"alt":null,"id":33204609351970,"position":6,"preview_image":{"aspect_ratio":6.606,"height":310,"width":2048,"src":"\/\/flexaworld.com\/cdn\/shop\/products\/83-10420_52.jpg?v=1678836832"},"aspect_ratio":6.606,"height":310,"media_type":"image","src":"\/\/flexaworld.com\/cdn\/shop\/products\/83-10420_52.jpg?v=1678836832","width":2048},{"alt":null,"id":33204609384738,"position":7,"preview_image":{"aspect_ratio":6.42,"height":319,"width":2048,"src":"\/\/flexaworld.com\/cdn\/shop\/products\/83-10420_55.jpg?v=1678836832"},"aspect_ratio":6.42,"height":319,"media_type":"image","src":"\/\/flexaworld.com\/cdn\/shop\/products\/83-10420_55.jpg?v=1678836832","width":2048}],"requires_selling_plan":false,"selling_plan_groups":[],"content":"\u003cp\u003eYour child's day is filled with new experiences, and at night your child needs peace and comfort to process them. Quality sleep boosts your child's ability to focus, remember and be creative, just as sleep is crucial to the successful development of your child's reading and mental maths skills.\n\nFLEXA Latex.\n6 cm of latex and 6 cm of cold foam which is pressure relieving, provides great support and adjusts to the shape of the body. \nLatex with airducts provides good ventilation and transports moisture away from the body. Suitable for children with sensitive skin or allergies. \nThe mattress has a water-repellent, non-woven inner cover.\nThe mattress has a 5-year guarantee and is STANDARD 100 by OEKO-TEX®.\n\nThe bamboo cover is perfect for children with sensitive skin or allergies. The cover is antibacterial, creating a hygienic sleeping environment. It also has a silky soft surface. The mattress cover is STANDARD 100 by OEKO-TEX®. Our mattress covers have a 2-year warranty.\u003c\/p\u003e"}
{"add_on_alternative_1_placeholder":"Alternative add-ons","add_on_alternative_2_placeholder":"Add some storage","add_on_standard_placeholder":"Complete with mattress","base_color":"White","care_instructions":["Machine wash 40C"],"certification":["OEKO-TEX"],"collection":"Sleep","collis-field":["83-10302, 83-70462"],"color":"White","color_references":["gid:\/\/shopify\/Product\/8091795980578"],"delivery_time":"2-5 business days","designer":"In the design of children furniture the designers always focus on the child and it's changing needs, and the products are all designed to improve children's lives in one way or the other. We design safe enviroments for childrens development and stimulate children's natural curiosity and creativity. This permeates everything we do – from product development to production.","designer_button":"Read more","designer_button_url":"https:\/\/www.flexaworld.com\/pages\/flexa-design-team","designer_header":"FLEXA Design Team","designer_image":"gid:\/\/shopify\/MediaImage\/32971482759458","height":{"value":12.0,"unit":"cm"},"is_assembled":false,"length":{"value":200.0,"unit":"cm"},"material_1":"Latex","material_2":"Foam","material_3":"Polyester","mattress_size":"90x200","measurement_image":"gid:\/\/shopify\/MediaImage\/32999850672418","oos_delivery_time":"2-5 business days","product_type":"Mattress","product_usp":"Fast delivery, Free delivery*, Certified safe payment ","product_usp_1_description":"FLEXA timber is PEFC® and FSC® certified, your guarantee that your child's furniture can be traced back to responsible forestry. All our textiles are STANDARD 100 by OEKO-TEX® which means they have been tested for harmful substances to protect your child's health.","product_usp_1_headline":"Certified Materials","product_usp_2_description":"FLEXA furniture is made to last. Many of our products can be adjusted and rebuilt in new ways to fit the changing needs of your growing child. Quality, durability, and timeless design are never out of fashion – you can easily pass down your child's FLEXA furniture for generations to come. ","product_usp_2_headline":"We Grow Together","product_usp_3_description":"For more than 50 years, FLEXA has brought joy to children around the world with our unique combination of Danish design and the highest standards of safety and quality. The name FLEXA refers to the flexibility of our products, all carefully designed to help your child develop, both when they sleep, play and study.","product_usp_3_headline":"FLEXA Since 1972","recommended_user_age":"3 years","warrenty1":"2 years","weight":"12.74","width":{"value":90.0,"unit":"cm"}}
FLEXA latex mattress, 200X90 bamboo cover
90x200 Latex, Foam, Polyester
2 years
OEKO-TEX
Fast delivery, Free delivery*, Certified safe payment
{"id":8091678638370,"title":"Pull-out bed","handle":"pull-out-bed-grey-washed-1","description":"\u003cp\u003eCLASSIC pull-out bed with integrated slat base and fold-out legs and soft rubber castors. The pull-out bed can be used underneath the Classic single bed and is perfect for sleepovers. The bed is available in three colours and is made of solid pinewood.\u003c\/p\u003e","published_at":"2023-03-31T10:44:32+02:00","created_at":"2023-01-24T18:22:42+01:00","vendor":"FLEXA","type":"BED-PART_CLASSIC_PULL-OUT-BED","tags":["190","CLASSIC","Pallet","PULL-OUT"],"price":1000,"price_min":1000,"price_max":1000,"available":true,"price_varies":false,"compare_at_price":null,"compare_at_price_min":0,"compare_at_price_max":0,"compare_at_price_varies":false,"variants":[{"id":44354613084450,"title":"Default Title","option1":"Default Title","option2":null,"option3":null,"sku":"82-20161-3","requires_shipping":true,"taxable":true,"featured_image":null,"available":true,"name":"Pull-out bed","public_title":null,"options":["Default Title"],"price":1000,"weight":25000,"compare_at_price":null,"inventory_management":"shopify","barcode":"5706459099910","requires_selling_plan":false,"selling_plan_allocations":[],"quantity_rule":{"min":1,"max":null,"increment":1}}],"images":["\/\/flexaworld.com\/cdn\/shop\/products\/82-20161-3_01.jpg?v=1678835251","\/\/flexaworld.com\/cdn\/shop\/products\/82-20161-3_11.jpg?v=1678835252","\/\/flexaworld.com\/cdn\/shop\/products\/82-20161-3_12.jpg?v=1678835252","\/\/flexaworld.com\/cdn\/shop\/products\/82-20161-3_21.jpg?v=1678835252","\/\/flexaworld.com\/cdn\/shop\/products\/82-20161-3_22.jpg?v=1678835252","\/\/flexaworld.com\/cdn\/shop\/products\/82-20161-3_52.jpg?v=1678835252","\/\/flexaworld.com\/cdn\/shop\/products\/82-20161-3_55.jpg?v=1678835252"],"featured_image":"\/\/flexaworld.com\/cdn\/shop\/products\/82-20161-3_01.jpg?v=1678835251","options":["Title"],"media":[{"alt":null,"id":33204451705122,"position":1,"preview_image":{"aspect_ratio":1.333,"height":1536,"width":2048,"src":"\/\/flexaworld.com\/cdn\/shop\/products\/82-20161-3_01.jpg?v=1678835251"},"aspect_ratio":1.333,"height":1536,"media_type":"image","src":"\/\/flexaworld.com\/cdn\/shop\/products\/82-20161-3_01.jpg?v=1678835251","width":2048},{"alt":null,"id":33204451737890,"position":2,"preview_image":{"aspect_ratio":1.454,"height":1409,"width":2048,"src":"\/\/flexaworld.com\/cdn\/shop\/products\/82-20161-3_11.jpg?v=1678835252"},"aspect_ratio":1.454,"height":1409,"media_type":"image","src":"\/\/flexaworld.com\/cdn\/shop\/products\/82-20161-3_11.jpg?v=1678835252","width":2048},{"alt":null,"id":33204451770658,"position":3,"preview_image":{"aspect_ratio":1.42,"height":1442,"width":2048,"src":"\/\/flexaworld.com\/cdn\/shop\/products\/82-20161-3_12.jpg?v=1678835252"},"aspect_ratio":1.42,"height":1442,"media_type":"image","src":"\/\/flexaworld.com\/cdn\/shop\/products\/82-20161-3_12.jpg?v=1678835252","width":2048},{"alt":null,"id":33204451803426,"position":4,"preview_image":{"aspect_ratio":1.287,"height":1591,"width":2048,"src":"\/\/flexaworld.com\/cdn\/shop\/products\/82-20161-3_21.jpg?v=1678835252"},"aspect_ratio":1.287,"height":1591,"media_type":"image","src":"\/\/flexaworld.com\/cdn\/shop\/products\/82-20161-3_21.jpg?v=1678835252","width":2048},{"alt":null,"id":33204451836194,"position":5,"preview_image":{"aspect_ratio":1.333,"height":1536,"width":2048,"src":"\/\/flexaworld.com\/cdn\/shop\/products\/82-20161-3_22.jpg?v=1678835252"},"aspect_ratio":1.333,"height":1536,"media_type":"image","src":"\/\/flexaworld.com\/cdn\/shop\/products\/82-20161-3_22.jpg?v=1678835252","width":2048},{"alt":null,"id":33204451868962,"position":6,"preview_image":{"aspect_ratio":1.333,"height":1536,"width":2048,"src":"\/\/flexaworld.com\/cdn\/shop\/products\/82-20161-3_52.jpg?v=1678835252"},"aspect_ratio":1.333,"height":1536,"media_type":"image","src":"\/\/flexaworld.com\/cdn\/shop\/products\/82-20161-3_52.jpg?v=1678835252","width":2048},{"alt":null,"id":33204451901730,"position":7,"preview_image":{"aspect_ratio":1.36,"height":1506,"width":2048,"src":"\/\/flexaworld.com\/cdn\/shop\/products\/82-20161-3_55.jpg?v=1678835252"},"aspect_ratio":1.36,"height":1506,"media_type":"image","src":"\/\/flexaworld.com\/cdn\/shop\/products\/82-20161-3_55.jpg?v=1678835252","width":2048}],"requires_selling_plan":false,"selling_plan_groups":[],"content":"\u003cp\u003eCLASSIC pull-out bed with integrated slat base and fold-out legs and soft rubber castors. The pull-out bed can be used underneath the Classic single bed and is perfect for sleepovers. The bed is available in three colours and is made of solid pinewood.\u003c\/p\u003e"}
{"add_on":["gid:\/\/shopify\/Product\/8091808760098","gid:\/\/shopify\/Product\/8091800731938"],"add_on_alternative_1_placeholder":"Alternative add-ons","add_on_alternative_2_placeholder":"Add some storage","add_on_standard_placeholder":"Complete with mattress","assambly_guide_1":"gid:\/\/shopify\/GenericFile\/41545512780107","base_color":"Grey","care_instructions":["Wash with damp cloth"],"certification":["PEFC"],"collection":"Classic","collis-field":["82-20111, 82-20167-3, 82-30002"],"color":"Grey Washed Pine","color_references":["gid:\/\/shopify\/Product\/8091678408994","gid:\/\/shopify\/Product\/8091678441762","gid:\/\/shopify\/Product\/8091678638370"],"delivery_time":"2-5 business days","designer":"In the design of children furniture the designers always focus on the child and it's changing needs, and the products are all designed to improve children's lives in one way or the other. We design safe enviroments for childrens development and stimulate children's natural curiosity and creativity. This permeates everything we do – from product development to production.","designer_button":"Read more","designer_button_url":"https:\/\/www.flexaworld.com\/pages\/flexa-design-team","designer_header":"FLEXA Design Team","designer_image":"gid:\/\/shopify\/MediaImage\/32971482759458","eco":true,"height":{"value":37.0,"unit":"cm"},"is_assembled":false,"leaf":true,"length":{"value":196.0,"unit":"cm"},"material_1":"Solid Pine","material_2":"Metal","mattress_size":"90x190","measurement_image":"gid:\/\/shopify\/MediaImage\/32999843660066","oos_delivery_time":"2-5 business days","palet":true,"product_type":"Pull-out bed","product_usp":"Fast delivery, Free delivery*, Certified safe payment ","product_usp_1_description":"FLEXA timber is PEFC® and FSC® certified, your guarantee that your child's furniture can be traced back to responsible forestry. All our textiles are STANDARD 100 by OEKO-TEX® which means they have been tested for harmful substances to protect your child's health.","product_usp_1_headline":"Certified Materials","product_usp_2_description":"FLEXA furniture is made to last. Many of our products can be adjusted and rebuilt in new ways to fit the changing needs of your growing child. Quality, durability, and timeless design are never out of fashion – you can easily pass down your child's FLEXA furniture for generations to come. ","product_usp_2_headline":"We Grow Together","product_usp_3_description":"For more than 50 years, FLEXA has brought joy to children around the world with our unique combination of Danish design and the highest standards of safety and quality. The name FLEXA refers to the flexibility of our products, all carefully designed to help your child develop, both when they sleep, play and study.","product_usp_3_headline":"FLEXA Since 1972","recommended_user_age":"3 years","warrenty1":"2 years","weight":"18.5","width":{"value":94.0,"unit":"cm"}}
90x190 Solid Pine, Metal
2 years
PEFC
Fast delivery, Free delivery*, Certified safe payment
{"id":8091678966050,"title":"Pull-out bed w. drawers","handle":"pull-out-bed-grey-washed-3","description":"\u003cp\u003eCLASSIC pull-out bed with integrated slat base and fold-out legs and soft rubber castors. The pull-out bed can be used underneath the Classic single bed and is perfect for sleepovers. The bed is available in three colours and is made of solid pinewood.\u003c\/p\u003e","published_at":"2023-03-03T13:34:43+01:00","created_at":"2023-01-24T18:23:15+01:00","vendor":"FLEXA","type":"BED-PART_CLASSIC_PULL-OUT-BED","tags":["200","CLASSIC","DRAWER","Pallet","PULL-OUT"],"price":2400,"price_min":2400,"price_max":2400,"available":true,"price_varies":false,"compare_at_price":null,"compare_at_price_min":0,"compare_at_price_max":0,"compare_at_price_varies":false,"variants":[{"id":44354613707042,"title":"Default Title","option1":"Default Title","option2":null,"option3":null,"sku":"82-20163-3","requires_shipping":true,"taxable":true,"featured_image":null,"available":true,"name":"Pull-out bed w. drawers","public_title":null,"options":["Default Title"],"price":2400,"weight":37000,"compare_at_price":null,"inventory_management":"shopify","barcode":"5706459099934","requires_selling_plan":false,"selling_plan_allocations":[],"quantity_rule":{"min":1,"max":null,"increment":1}}],"images":["\/\/flexaworld.com\/cdn\/shop\/products\/82-20163-3.png?v=1678878994"],"featured_image":"\/\/flexaworld.com\/cdn\/shop\/products\/82-20163-3.png?v=1678878994","options":["Title"],"media":[{"alt":null,"id":33209020842274,"position":1,"preview_image":{"aspect_ratio":1.321,"height":2650,"width":3500,"src":"\/\/flexaworld.com\/cdn\/shop\/products\/82-20163-3.png?v=1678878994"},"aspect_ratio":1.321,"height":2650,"media_type":"image","src":"\/\/flexaworld.com\/cdn\/shop\/products\/82-20163-3.png?v=1678878994","width":3500}],"requires_selling_plan":false,"selling_plan_groups":[],"content":"\u003cp\u003eCLASSIC pull-out bed with integrated slat base and fold-out legs and soft rubber castors. The pull-out bed can be used underneath the Classic single bed and is perfect for sleepovers. The bed is available in three colours and is made of solid pinewood.\u003c\/p\u003e"}
{"add_on":["gid:\/\/shopify\/Product\/8091805253922","gid:\/\/shopify\/Product\/8091806728482"],"add_on_alternative_1_placeholder":"Alternative add-ons","add_on_alternative_2_placeholder":"Add some storage","add_on_standard_placeholder":"Complete with mattress","base_color":"Grey","care_instructions":["Wash with damp cloth"],"certification":["PEFC"],"collection":"Classic","collis-field":["82-20108-3, 82-20165-3, 82-30002"],"color":"Grey Washed Pine","color_references":["gid:\/\/shopify\/Product\/8091678933282","gid:\/\/shopify\/Product\/8091678966050"],"delivery_time":"3-7 business days","designer":"In the design of children furniture the designers always focus on the child and it's changing needs, and the products are all designed to improve children's lives in one way or the other. We design safe enviroments for childrens development and stimulate children's natural curiosity and creativity. This permeates everything we do – from product development to production.","designer_button":"Read more","designer_button_url":"https:\/\/www.flexaworld.com\/pages\/flexa-design-team","designer_header":"FLEXA Design Team","designer_image":"gid:\/\/shopify\/MediaImage\/32971482759458","height":{"value":34.0,"unit":"cm"},"is_assembled":false,"length":{"value":196.0,"unit":"cm"},"material_1":"Solid Pine","material_2":"Metal","mattress_size":"90x190","oos_delivery_time":"3-7 business days","product_type":"Pull-out bed","product_usp":"Fast delivery, Free delivery*, Certified safe payment ","product_usp_1_description":"FLEXA timber is PEFC® and FSC® certified, your guarantee that your child's furniture can be traced back to responsible forestry. All our textiles are STANDARD 100 by OEKO-TEX® which means they have been tested for harmful substances to protect your child's health.","product_usp_1_headline":"Certified Materials","product_usp_2_description":"FLEXA furniture is made to last. Many of our products can be adjusted and rebuilt in new ways to fit the changing needs of your growing child. Quality, durability, and timeless design are never out of fashion – you can easily pass down your child's FLEXA furniture for generations to come. ","product_usp_2_headline":"We Grow Together","product_usp_3_description":"For more than 50 years, FLEXA has brought joy to children around the world with our unique combination of Danish design and the highest standards of safety and quality. The name FLEXA refers to the flexibility of our products, all carefully designed to help your child develop, both when they sleep, play and study.","product_usp_3_headline":"FLEXA Since 1972","recommended_user_age":"3 years","warrenty1":"2 years","weight":"36","width":{"value":94.0,"unit":"cm"}}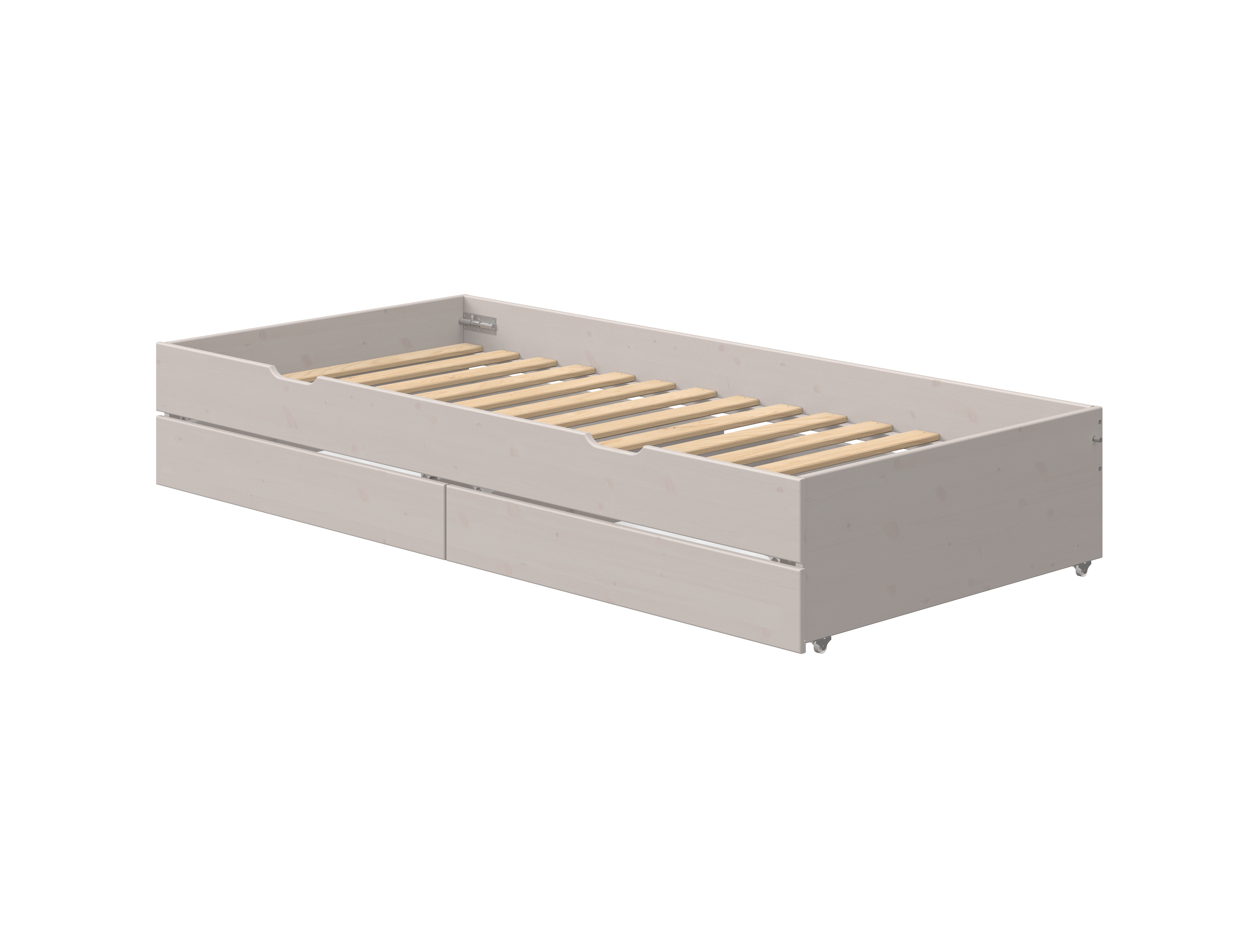 90x190 Solid Pine, Metal
2 years
PEFC
Fast delivery, Free delivery*, Certified safe payment
{"id":8091674116386,"title":"Drawers for single and bunk bed","handle":"drawers-for-single-and-bunk-bed-grey-washed-1","description":"\u003cp\u003e7 drawers for CLASSIC single bed. The drawers is useful to store your child's bed linen or toys. The drawers are available in three colours and are made of solid pinewood and MDF.\u003c\/p\u003e","published_at":"2023-01-26T15:20:15+01:00","created_at":"2023-01-24T18:16:36+01:00","vendor":"FLEXA","type":"BED-PART_CLASSIC_DRAWER","tags":["200","CLASSIC","DRAWER","GLS","Postal"],"price":1000,"price_min":1000,"price_max":1000,"available":true,"price_varies":false,"compare_at_price":null,"compare_at_price_min":0,"compare_at_price_max":0,"compare_at_price_varies":false,"variants":[{"id":44354603647266,"title":"Default Title","option1":"Default Title","option2":null,"option3":null,"sku":"82-20108-3","requires_shipping":true,"taxable":true,"featured_image":null,"available":true,"name":"Drawers for single and bunk bed","public_title":null,"options":["Default Title"],"price":1000,"weight":16000,"compare_at_price":null,"inventory_management":"shopify","barcode":"5706459099897","requires_selling_plan":false,"selling_plan_allocations":[],"quantity_rule":{"min":1,"max":null,"increment":1}}],"images":["\/\/flexaworld.com\/cdn\/shop\/products\/82-20108-3_01.jpg?v=1678835130","\/\/flexaworld.com\/cdn\/shop\/products\/82-20108-3_24.jpg?v=1679048468","\/\/flexaworld.com\/cdn\/shop\/products\/82-20108-3_11.jpg?v=1679048468","\/\/flexaworld.com\/cdn\/shop\/products\/82-20108-3_12.jpg?v=1679048468","\/\/flexaworld.com\/cdn\/shop\/products\/82-20108-3_21.jpg?v=1679048468","\/\/flexaworld.com\/cdn\/shop\/products\/82-20108-3_22.jpg?v=1679048468","\/\/flexaworld.com\/cdn\/shop\/products\/82-20108-3_52.jpg?v=1678835131","\/\/flexaworld.com\/cdn\/shop\/products\/82-20108-3_54.jpg?v=1678835131","\/\/flexaworld.com\/cdn\/shop\/products\/82-20108-3_55.jpg?v=1678835131"],"featured_image":"\/\/flexaworld.com\/cdn\/shop\/products\/82-20108-3_01.jpg?v=1678835130","options":["Title"],"media":[{"alt":null,"id":33204438466850,"position":1,"preview_image":{"aspect_ratio":1.333,"height":1536,"width":2048,"src":"\/\/flexaworld.com\/cdn\/shop\/products\/82-20108-3_01.jpg?v=1678835130"},"aspect_ratio":1.333,"height":1536,"media_type":"image","src":"\/\/flexaworld.com\/cdn\/shop\/products\/82-20108-3_01.jpg?v=1678835130","width":2048},{"alt":null,"id":33204438630690,"position":2,"preview_image":{"aspect_ratio":1.334,"height":1535,"width":2048,"src":"\/\/flexaworld.com\/cdn\/shop\/products\/82-20108-3_24.jpg?v=1679048468"},"aspect_ratio":1.334,"height":1535,"media_type":"image","src":"\/\/flexaworld.com\/cdn\/shop\/products\/82-20108-3_24.jpg?v=1679048468","width":2048},{"alt":null,"id":33204438499618,"position":3,"preview_image":{"aspect_ratio":1.529,"height":1339,"width":2048,"src":"\/\/flexaworld.com\/cdn\/shop\/products\/82-20108-3_11.jpg?v=1679048468"},"aspect_ratio":1.529,"height":1339,"media_type":"image","src":"\/\/flexaworld.com\/cdn\/shop\/products\/82-20108-3_11.jpg?v=1679048468","width":2048},{"alt":null,"id":33204438532386,"position":4,"preview_image":{"aspect_ratio":1.42,"height":1442,"width":2048,"src":"\/\/flexaworld.com\/cdn\/shop\/products\/82-20108-3_12.jpg?v=1679048468"},"aspect_ratio":1.42,"height":1442,"media_type":"image","src":"\/\/flexaworld.com\/cdn\/shop\/products\/82-20108-3_12.jpg?v=1679048468","width":2048},{"alt":null,"id":33204438565154,"position":5,"preview_image":{"aspect_ratio":0.785,"height":2048,"width":1607,"src":"\/\/flexaworld.com\/cdn\/shop\/products\/82-20108-3_21.jpg?v=1679048468"},"aspect_ratio":0.785,"height":2048,"media_type":"image","src":"\/\/flexaworld.com\/cdn\/shop\/products\/82-20108-3_21.jpg?v=1679048468","width":1607},{"alt":null,"id":33204438597922,"position":6,"preview_image":{"aspect_ratio":1.293,"height":1584,"width":2048,"src":"\/\/flexaworld.com\/cdn\/shop\/products\/82-20108-3_22.jpg?v=1679048468"},"aspect_ratio":1.293,"height":1584,"media_type":"image","src":"\/\/flexaworld.com\/cdn\/shop\/products\/82-20108-3_22.jpg?v=1679048468","width":2048},{"alt":null,"id":33204438663458,"position":7,"preview_image":{"aspect_ratio":1.333,"height":1536,"width":2048,"src":"\/\/flexaworld.com\/cdn\/shop\/products\/82-20108-3_52.jpg?v=1678835131"},"aspect_ratio":1.333,"height":1536,"media_type":"image","src":"\/\/flexaworld.com\/cdn\/shop\/products\/82-20108-3_52.jpg?v=1678835131","width":2048},{"alt":null,"id":33204438696226,"position":8,"preview_image":{"aspect_ratio":1.333,"height":1536,"width":2048,"src":"\/\/flexaworld.com\/cdn\/shop\/products\/82-20108-3_54.jpg?v=1678835131"},"aspect_ratio":1.333,"height":1536,"media_type":"image","src":"\/\/flexaworld.com\/cdn\/shop\/products\/82-20108-3_54.jpg?v=1678835131","width":2048},{"alt":null,"id":33204438728994,"position":9,"preview_image":{"aspect_ratio":1.36,"height":1506,"width":2048,"src":"\/\/flexaworld.com\/cdn\/shop\/products\/82-20108-3_55.jpg?v=1678835131"},"aspect_ratio":1.36,"height":1506,"media_type":"image","src":"\/\/flexaworld.com\/cdn\/shop\/products\/82-20108-3_55.jpg?v=1678835131","width":2048}],"requires_selling_plan":false,"selling_plan_groups":[],"content":"\u003cp\u003e7 drawers for CLASSIC single bed. The drawers is useful to store your child's bed linen or toys. The drawers are available in three colours and are made of solid pinewood and MDF.\u003c\/p\u003e"}
{"add_on_alternative_1_placeholder":"Alternative add-ons","add_on_alternative_2_placeholder":"Add some storage","add_on_standard_placeholder":"Complete with mattress","base_color":"Grey","care_instructions":["Wash with damp cloth"],"certification":["PEFC"],"collection":"Classic","collis-field":["82-20108-3"],"color":"Grey Washed Pine","color_references":["gid:\/\/shopify\/Product\/8091673854242","gid:\/\/shopify\/Product\/8091673887010","gid:\/\/shopify\/Product\/8091674116386"],"delivery_time":"2-5 business days","designer":"In the design of children furniture the designers always focus on the child and it's changing needs, and the products are all designed to improve children's lives in one way or the other. We design safe enviroments for childrens development and stimulate children's natural curiosity and creativity. This permeates everything we do – from product development to production.","designer_button":"Read more","designer_button_url":"https:\/\/www.flexaworld.com\/pages\/flexa-design-team","designer_header":"FLEXA Design Team","designer_image":"gid:\/\/shopify\/MediaImage\/32971482759458","eco":true,"height":{"value":20.0,"unit":"cm"},"is_assembled":false,"leaf":true,"length":{"value":196.0,"unit":"cm"},"material_1":"Solid Pine","material_2":"Plywood","mattress_size":"90x200","measurement_image":"gid:\/\/shopify\/MediaImage\/32999843397922","palet":true,"product_type":"Drawers","product_usp":"Fast delivery, Free delivery*, Certified safe payment ","product_usp_1_description":"FLEXA timber is PEFC® and FSC® certified, your guarantee that your child's furniture can be traced back to responsible forestry. All our textiles are STANDARD 100 by OEKO-TEX® which means they have been tested for harmful substances to protect your child's health.","product_usp_1_headline":"Certified Materials","product_usp_2_description":"FLEXA furniture is made to last. Many of our products can be adjusted and rebuilt in new ways to fit the changing needs of your growing child. Quality, durability, and timeless design are never out of fashion – you can easily pass down your child's FLEXA furniture for generations to come. ","product_usp_2_headline":"We Grow Together","product_usp_3_description":"For more than 50 years, FLEXA has brought joy to children around the world with our unique combination of Danish design and the highest standards of safety and quality. The name FLEXA refers to the flexibility of our products, all carefully designed to help your child develop, both when they sleep, play and study.","product_usp_3_headline":"FLEXA Since 1972","recommended_user_age":"3 years","warrenty1":"2 years","weight":"15","width":{"value":94.0,"unit":"cm"}}
Drawers for single and bunk bed
90x200 Solid Pine, Plywood
2 years
PEFC
Fast delivery, Free delivery*, Certified safe payment
Fast delivery
Certified safe payment
Return
Daybed Details
Product description
The Classic daybed is designed to give children a place where they can feel safe to go on adventures, both in their dreams and during daytime. The daybed can be used both as a bed at night and as a couch during the day. You can add a set of drawers beneath the daybed, or you can add a pull-out guest bed for when you child has a friend sleeping over. The Classic collection is a flexible bed system designed to grow with the changing needs of every child. This means that you can rebuild your child's daybed into a mid-high bed (with or without a slide), a high bed with a desk beneath or even a bunk bed - to fit the ever-changing needs of children of all ages. Check out the Classic collection to see the different opportunities and bed accessories. - Daybed with head and foot board and a back rail. - Possible to rebuild into other types of beds. - Easy to match with other FLEXA collections. - Add different bed accessories to personalise your child's room. - Designed in Denmark and made from FSC™ certified wood.
Recommended age: 3 years.
Dimensions
B 99.9 cm
H 66.5 cm
L 209.3 cm
Material
Solid Pine
Birch Plywood
Care instructions
Wash with damp cloth
Package numbers
80-01104-3, 80-01105-3, 80-01602-3
Certified Materials
FLEXA timber is PEFC® and FSC® certified, your guarantee that your child's furniture can be traced back to responsible forestry. All our textiles are STANDARD 100 by OEKO-TEX® which means they have been tested for harmful substances to protect your child's health.

We Grow Together
FLEXA furniture is made to last. Many of our products can be adjusted and rebuilt in new ways to fit the changing needs of your growing child. Quality, durability, and timeless design are never out of fashion – you can easily pass down your child's FLEXA furniture for generations to come.
FLEXA Since 1972
For more than 50 years, FLEXA has brought joy to children around the world with our unique combination of Danish design and the highest standards of safety and quality. The name FLEXA refers to the flexibility of our products, all carefully designed to help your child develop, both when they sleep, play and study.
FLEXA Design Team
In the design of children furniture the designers always focus on the child and it's changing needs, and the products are all designed to improve children's lives in one way or the other. We design safe enviroments for childrens development and stimulate children's natural curiosity and creativity. This permeates everything we do – from product development to production.
Read more
Find Your Local FLEXA Retailer
You find FLEXA stores and retailers all over the world. Visit your local FLEXA retailer to see, try, and experience our products in person, and get lots of new inspiration for your kid's room. The staff will gladly answer any questions you might have, so you're sure to make the right choice.
Find your retailer
Latest posts
---
Explore more